National outlook concludes retail property will post the strongest annual real estate yields as pandemic restrictions lift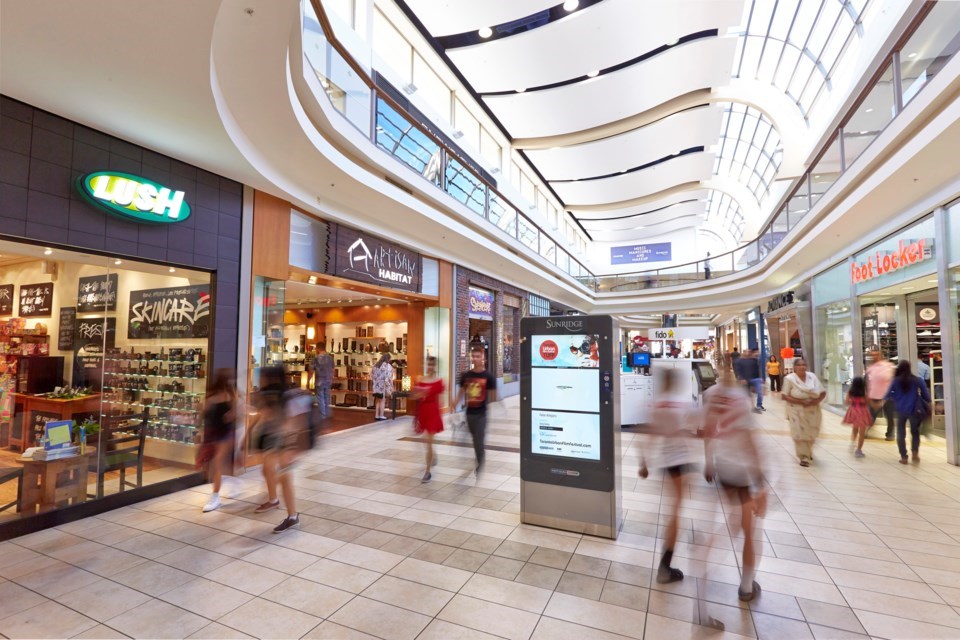 Pent-up demand and the end of COVD-19 mandates expected to spur retail spending at centres like Sun Ridge Mall in Calgary. | Primaris
This year could be the time for real estate investors to look at the retail sector for stronger yields, according to the CBRE 2022 Canada Real Estate Market outlook. The report suggests that the lifting of pandemic restrictions and pent-up consumer demand will drive retail real estate returns higher.  
Demand for multi-family and industrial assets has increased drastically in recent years due to strong fundamentals, but more firms will and should be diversifying into the office and retail sectors more heavily in 2022, the report suggests.
National average capitalization rates (cap rates) for the multi-family and industrial sectors compressed significantly over the pandemic and ended 2021 at 4.2 per cent and 4.8 per cent, respectively.
In Vancouver, multi-family cap rates have fallen to the 3 per cent range, for example.
On a relative basis, the office and retail sectors are now offering yield premiums in the range of 70 bps to 200 bps higher, and this favourable pricing, coupled with the ongoing normalization of the economy, will drive investor conviction and demand for these asset classes going forward, CBRE stated.
Retail power centres, such a big-box clusters, are forecast to deliver cap rates of 6.5 per cent this year, with retail neighbourhood malls generating 6.4 per cent yields. Downtown office buildings are expected to deliver cap rates in the 6 per cent range, CBRE estimates.
"Liquidity for the retail and office sectors has already shown concrete signs of recovery entering 2022. With many large institutions looking to diversify and the current pipeline of retail listings appearing robust, a strong supply coupled with rising demand will allow investment activity to reach pre-pandemic levels in 2022," the report stated.  
---